Work contents and equipment
Everything from printed items that will be used as materials for manuals, packaging, and the like, through the printed materials used for advertising and public relations that will likely become increasingly commonplace in the markets of this emerging country. Then, everything from pre-press to post-press. We provide comprehensive printing production. With, of course, Japanese quality.
[ Separated by product ]
Sheetfed offset printing
Printed materials for use in sales promotions
Single item catalogs, comprehensive catalogs, flyers, and the like for products.
Materials
Product manuals, product parts, etc.
Board printing
Mounts, boxes, and other packages
[ Separated by process ]
Pre-press
We use 100% digitalization and CTP (computer to plate) to facilitate high levels of tight register and hightone dot reproducibility.
Press
We make consistent color quality a reality via our Heidelberg paper-compatible 4 color printing machines.
Post-press
Centered on our three systems of equipment: System (1) Processing (trimming, folding, stitching, etc.) equipment used for sales promotion printed materials; System (2) Processing (diecutting, sacking, etc.) equipment used for board and packaging; and System (3) Our "NANAMEMOR" manufacturing equipment that has been patented overseas (including in Japan).
Quality management
All products are inspected
Quality
We bring satisfactory printing quality that meets Japanese standards to expanding corporations that are dissatisfied with printed material procurement quality in Vietnam.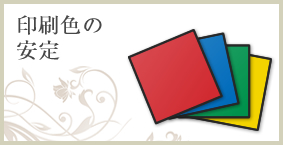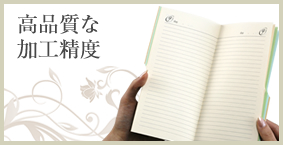 Strong point
[ Consistent printing color ]
We introduce numerical controls to printing. Management via numeral-based objective indices is used to eliminate inconsistent elements resulting from operator capabilites, making possible the provision of consistent printing colors with little blur.
Especially noteworthy is our being supplied with ink by the Japanese ink manufacturer DIC Vietnam, TOYO INK Vietnam that facilitates error-free color reproduction, with repeats earning particularly high praise.
[ Processing precision ]
Various types of processing are required after printing, such as trimming, folding, binding, diecutting, and like, but even if the printing quality is exceptional, poor finishing precision can ruin a product. In Vietnam, where there are few printing companies cable of comprehensive quality management from printing through processing, and the paper processing market has yet to mature, we provide consistent final products via quality management that meets Japanese standards.
Speed
Though there is a frequent tendency to be careless about delivery dealines in Asia, we meet them with Japanese quality and Japanese standards.
There is no need to give up! Please consult with us and we will solve your problems.
Strong point
[ Adherence to delivery deadlines ]
Japan is known for its highly precise schedule management, such as in the management of train runs.
Our company has incorporated Japanese quality schedule management and printing as well, and we strive to meet the desired delivery deadlines of your company.
Cost
If quality is compromised by using cheap services, it becomes impossible to curtail such efforts as product inspections after products are received, and ultimately the total cost of printed material creation increases. We aim to be a Japanese-model business that provides products that can be used without inspections, and we will make every effort to ultimately reduce total cost.
We offer satisfactory printing prices to corporations that are considering cost-cutting of company printed materials by printing/manufacturing in Vietnam and reimporting to Japan.
Strong point
[ Fair and appropriate prices that correspond to quality ]
Our company makes the provision of consistent quality possible by being fastidious about printing machines with good halftone dot reproducibility, ink with sound color reproduction, durable press plates, and the printing machines and materials we use. Due to instability in the procurement of materials, inspections of all items are conducted as a matter of course in Vietnam, but our reliable quantities and finishing qualities effectively curtail time and labor required for inspections, and this enables total cost reduction for printing.